In a sensational advert for the junior game, the 16-year-old clinched a 11/7, 14/12, 7/11, 9/11, 11/8 victory over Scotland's Alasdair Prott to become the first Warwickshire male in over three decades to taste success at the BJC.
Anderson burst out of the blocks and dictated the first two games at a furious pace, racing into a 2-0 lead as he opened up his Scottish opponent.
But Prott proved why he was the top seed in this tournament and matched Anderson in the third, winning 11-7.
In a physical game interspersed with unforced errors from both players – a testament to the high intensity showcased by both – Solihull-born Anderson was in the driving seat after a 5-1 lead in the fourth, but a determined Prott battled back, producing a brilliant volley en route to fighting back to levelling at two games apiece.
And in a nail-biting last game, it was Anderson who kept his cool at 9-9 to power to a two-point victory and become the first Warwickshire player since Gary Robinson in the Boys Under 19 win in 1985 to claim BJC silverware.
It was a mammoth result for the left-hander, who lost to Prott in the Welsh Junior Open last year and looked a different player to his runner's up performance at this year's English Junior U17 Championship in March. Anderson said:
"I had to regroup for the last game and I kept composed when it mattered. I'm just so happy.""It was neck in the fourth and then I hit a frame which I thought was good but the ref thought otherwise, so that put him game ball up and I lost my head a bit which made me lose it.
"After I lost the English Closed final in March, my coach went away and decided we had to keep mentally tough in those situations.
"I've worked on it over the past six months and for this one, I was ready."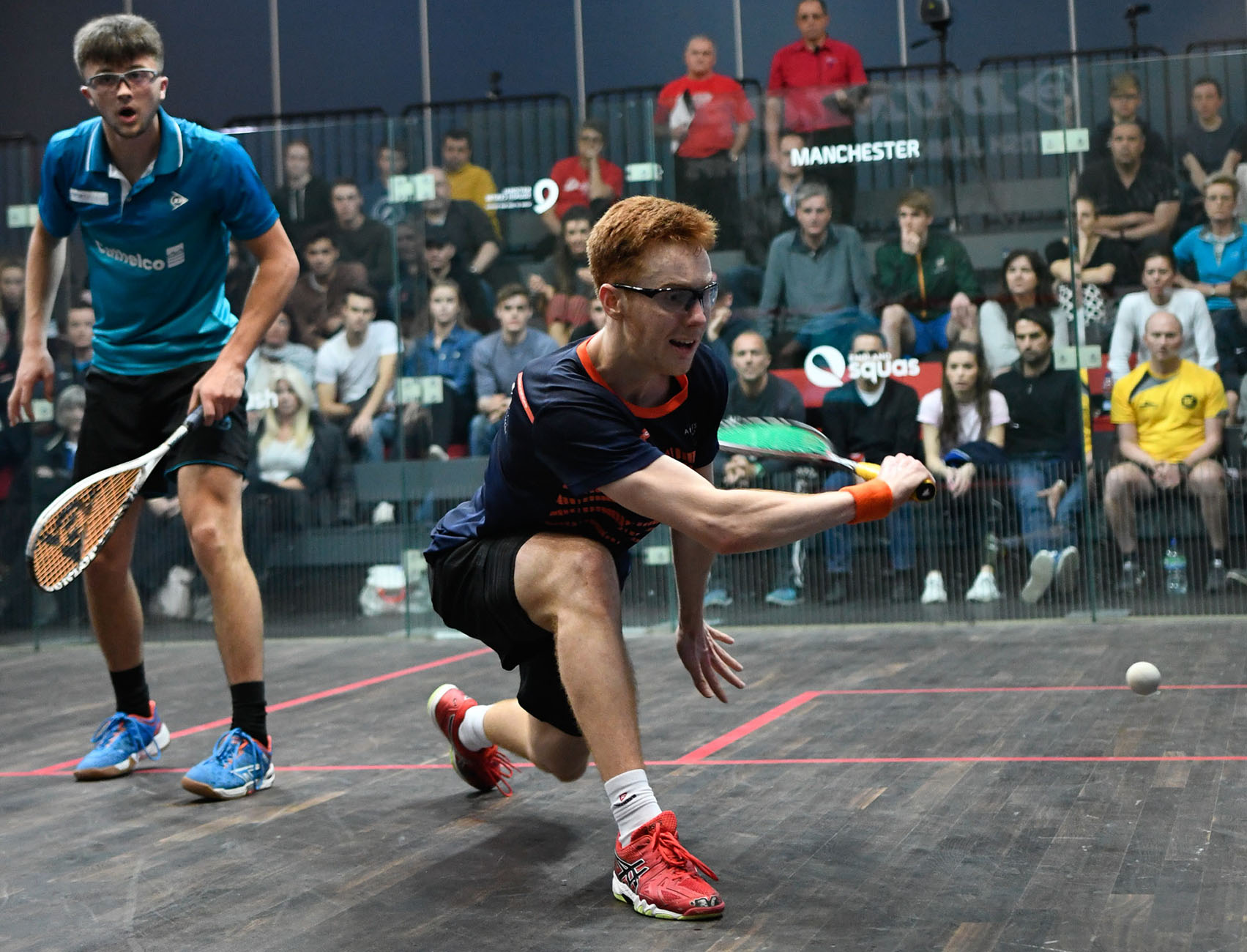 In the BU19 competition, No.2 seed Tom Walsh powered to a 12/10, 11/6, 11/9 victory in a tense match against No.4 seed Nick Wall to attain his first BJC victory.
The opening period was a classically tight affair, but it was Walsh who showcased great agility around the court to take the first game 12-10, before stretching his Yorkshire opponent with a variety of shots to lead 2-0.
The 2015 BU17 runner up maintained the same high-performance levels as in the first two games, completing a 3-0 win over tricky opponent Wall, who had previously knocked out No.1 seed Kyle Finch in the semi-finals.
Speaking after the final, Walsh, who didn't drop a game all tournament, expressed his delight at finally getting his hands on the illustrious Don Sanderson trophy. He said:
"I'm amazed I came through, Nick is a quality player. We have battled since the younger age groups, so I am delighted I came through in three games to win my first British title.""Whatever happened I was going to have a tough match in the final, but I knew whoever I got it was going to be a tough final."
"I had a game plan and I stuck with it, I don't think I could have done much better."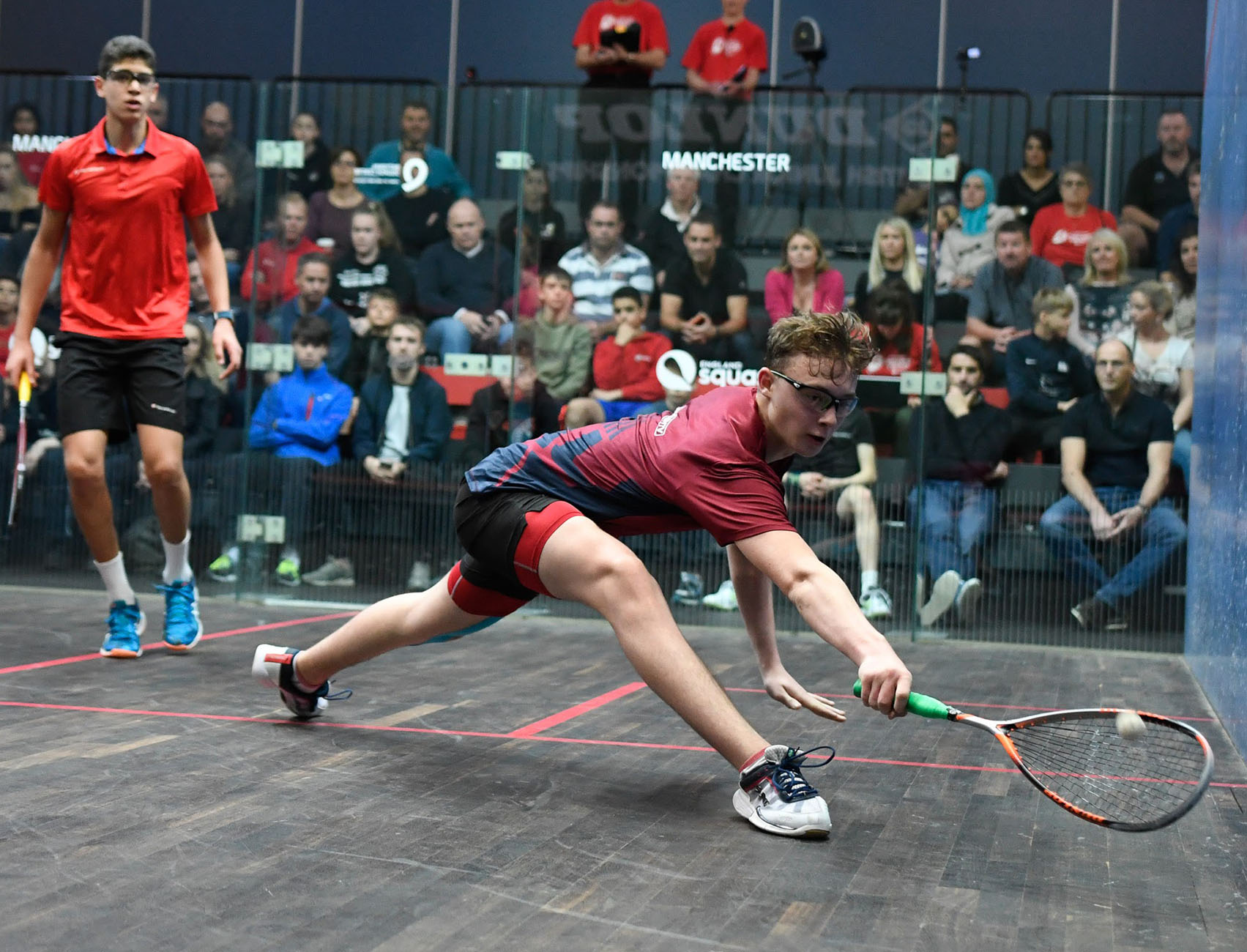 Meanwhile Yorkshire's Sam Todd saw off a strong challenge from Warwickshire's Hassan Khalil to claim the BU15 title and put last year's semi-final heartache behind him.
Despite a bright start from second seed Khalil, the Pontefract prodigal talent soon found his rhythm and orchestrated an effective game plan, intelligently pin-pointing the ball across all corners of the court as he wrapped victory 11/7, 11/7 11/9.
Khalil matched him in the third, producing a string of stunning shots in a game characterised by a series of patient rallies, before Todd opened up a four-point lead en route to victory.
"It was an excellent game played in excellent spirit by two gentlemen on court," said Sam's father Mick, who confirmed his son would not be defending his title at the US Junior Open in December, instead aiming to be seeded number one at January's British Junior Open.
"The game far exceeded under-15's play but Sam did well to concentrate and come through 3-0."
Elsewhere, top seed Jonah Bryant marked his last BU13 appearance in style as he stormed to victory over Essex's Yusuf Sheikh [2] 11/0, 11/1, 11/8 and consolidate on his English Junior Open win earlier this year.
The result saw the 12-year-old becomes only the second Sussex player to triumph in the BU13 category and the first since Curtis Malik's victory in 2011.
The 2016 BU13 runner-up, who lost to Worcestershire's Sam Osborne-Wylde last time round, produced a dominant performance despite injuring himself as he dived to a retrieve a shot in the second game. The 12-year-old Sussex player, who admitted he would target his volleying as he transitions to the BU15 category said:
"I'm really happy because I hit the ball quite well in the first two games and I was just enjoying the feel of the glass court.""In the third I started to lose my concentration a bit and it went closer which maybe it shouldn't have done, but I'm pleased to have won."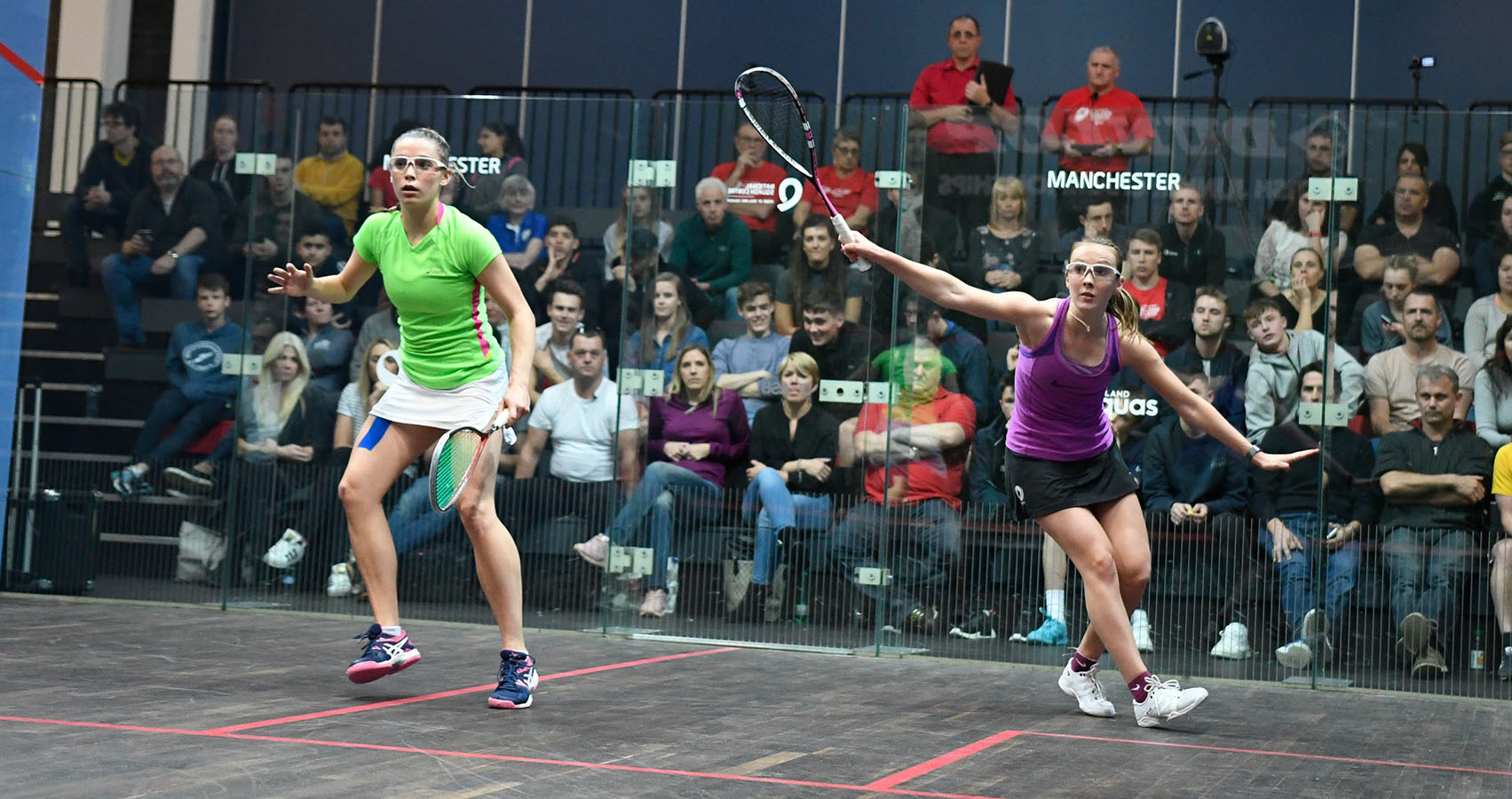 Turmel battles back to retain her Girls Under 19 Title
Suffolk's Turmel, who has a PSA ranking of 71, started brightly winning the first game 11/8 before Hutton notched up the intensity taking the following games 11/9 and 13/11.
However, Turmel, who reached the quarter finals of the European Individual Championship earlier this year, spiritedly fought back winning the fourth and the fifth 11/6 and 11/5.
Speaking after her consecutive BJC GU19 victory, No.1 seed Turmel expressed her delight at the way she fought back as well as praising the performance of her opponent.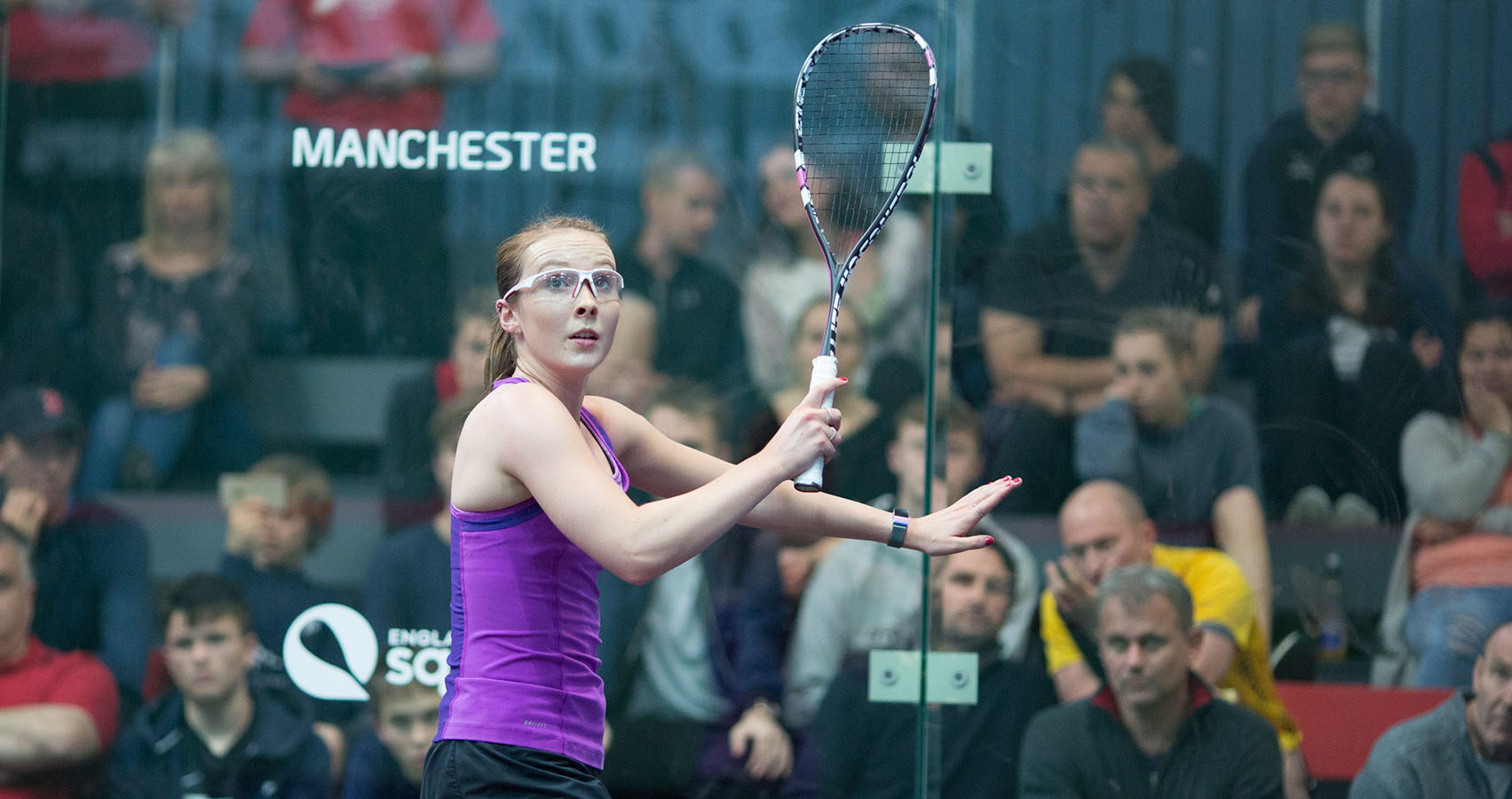 "I am proud of my performance today, not because I was playing my best squash but because I found a way to fight through," Turmel said.
"Jas played really well today, she really upped her game and made me fight for that."
Former world champion and current world No.4 Laura Massaro, who has been mentoring Turmel, was impressed with both competitors and tipped both players for future success. She said:
"It was definitely a little bit different sat on the other side of the glass, but I am really proud of Lucy she has done amazingly well to retain her title. Jasmine has improved a lot since the last time I saw her play."Lucy has a bright future ahead of her and Jas has too. With the dedication that Lucy puts in and with her attention to detail, you just have to keep having those experiences, and they will pay off in the future."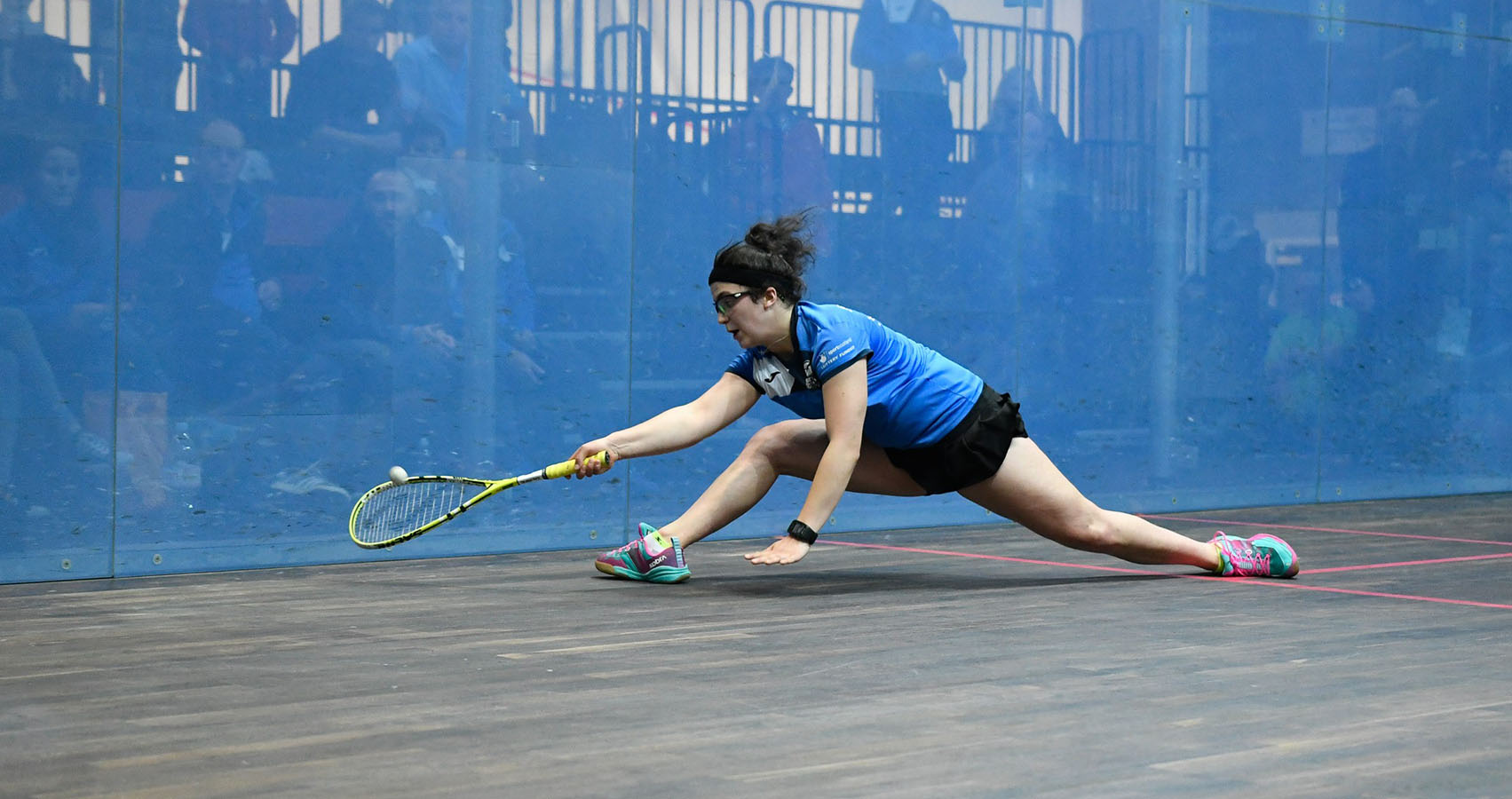 Georgia Adderley etched her name into the BJC history books after becoming the first ever Scottish female to win the GU17 title and simultaneously the first Scot since 1993 to win a BJC competition.
The Edinburgh teenager and No.1 seed was made to work hard for her debut BJC title in a tough encounter with Essex's Alice Green – fighting back from 9-4 down in the fourth set to take the GU17 crown.
Speaking after her victory, Adderley expressed her delight at becoming only the fifth Scottish female to claim a BJC title across any category. She said:
"I'm over the moon, I can't really put it into words to describe how it feels. I came here wanting to win and I've come away with it – I am absolutely buzzing.""It was a really tight match we have always had really big battles, especially in the last two and it was really difficult to overcome 9/4 down in the fourth.
"I just had to try to keep my head and I managed to get back into it. I just had to rethink my game plan and I think it worked."
Adderley, who quit playing football for Scotland earlier this year to focus on her squash, tussled through three sets, winning 11/8, 11/5 before being pegged back 7/11.
No.2 seed Green, looked set to force the match into a fifth set before a spirited Adderley regained her composure to secure her GU17 crown with a 13/11 fourth set victory.
Elsewhere, tournament top seed Katie Malliff overcame the challenge of second seed Torrie Malik to regain her GU15 title in straight sets, winning 11/6, 11/4, 11/9.
Sussex's Malik competed admirably after her eye protection was smashed in the first game, but a battling Malliff performance ensured that the Buckinghamshire teenager won her third BJC championship in three years.
In the GU13 final, No.1 seed, Yorkshire's Asia Harris completed an 11/6, 11/9, 9/11, 11/7 victory over second seed Amelie Haworth to be crowned champion of her age group.
After the match, England Squash High Performance Coach Tania Bailey commended the efforts of both players for their high physicality and forecasted bright futures for both competitors.
"The level of squash for the Girls Under 13 was so high we were really impressed, and I didn't want it to end because I was enjoying it so much." Bailey said.
"Asia is nearer to 13 and Amelie is only just 11, so Amelie will have her chance next year.
"The whole match was just such high quality, both have a really good future ahead of them."